Acid Etched Glass Process
Posted by:
Admin
Tags:
Posted date:
06-02-2021
What is the Acid-etched Glass Process?
Acid etching is a process that can cut into another substance using a strong acid. Its use is widespread for both artistic and industrial purposes. For example, acid etching can be used to prepare cement flooring for refinishing or painting, while many artists use it to create detailed pictures on glass or metal.

Acid-etched glass has a unique, satin-like, evenly smooth. Acid-etched glass acknowledges light while giving vision control and softening. Acid-etched glass adds a visual and tactile attractive look to the glass. Not only does acid-etched glass offer privacy, but it also welcomes in an abundance of light.
Designers and architects alike can use acid-etched glass to create unique and distinctive surroundings that seem to glow that comes from within. Acid-etched glass is used often in many interior applications such as table-tops, stairs, floors, escalators, elevators, retail displays, railings, walls, doors and countless other surfaces.

Origin of Acid-etched Glass
It was during the middle ages, that the process of acid glass-etching was somewhat clouded with controversy, since its acid medium, hydrofluoric acid, was causing a high health risk to the artisans, so much so that the users were known to have been poisoned merely by its fumes.
Many accidents happened when the acid made contact with the skin, which in turn would dissolve the tissues. The result of the acid would often result in the artisan being mutilated or lose their fingers.
As a result of the risk and their injuries, acid etched glass craftsmanship tended to lack refinement and lost its lustre as an art collection.
Today, specialist tools such as adhesive protection masks, pick knives and swivel knives aside from the squeegee, these tools make it possible for people to work on acid glass-etching projects. Acid glass-etching is a difficult process and protection must be worn at all times.
Producing Acid-Etching Glass
To produce acid etched glass, one side of float glass is etched. In order to create an etched glass design, a stencil made of abrasive material, such as rubber or vinyl is used to create a design in the glass.
The abrasive stencil is called a resist. You then secure the resist to the glass waiting to be etched. Powered by an air compressor, a blaster gun is used to blast the glass with the abrasive.
The glass parts covered and protected by the resist will remain crystal clear, while the rest of the glass will have a beautiful frosted effect, therefore producing a stunning piece of etched glass.

Etching Glass with Hydrofluoric Acid
In order to produce acid etched glass, a piece of glass is etched by hydrofluoric acid gas, or by hydrofluoric acid. In its appearance, the gaseous acid resembles ground glass; the liquid acid produces clear, precise etching. Therefore, etching glass consists of two distinct branches.
First, when the gas is used, you create a dull image on a transparent surface and second, a clear image is produced on the part of the surface that has previously been dulled or ground by using the liquid acid.

Next, we gently clean and warm the glass plate, waiting to be etched until it is hot enough to melt the wax. We then cover the glass's surface with an equal layer of white wax, by rubbing the glass's wax.
When the wax is cold, a graver is used to cut a wax design. We then obtain a shallow trough, about the size a little smaller than a plate. A small amount of finely powdered fluorspar is placed inside the channel. It is essential the powder is weighed and then sifted gently over the bottom of the trough.
Going by weight, for every two parts of fluorspar, we add three parts of vitriol oil.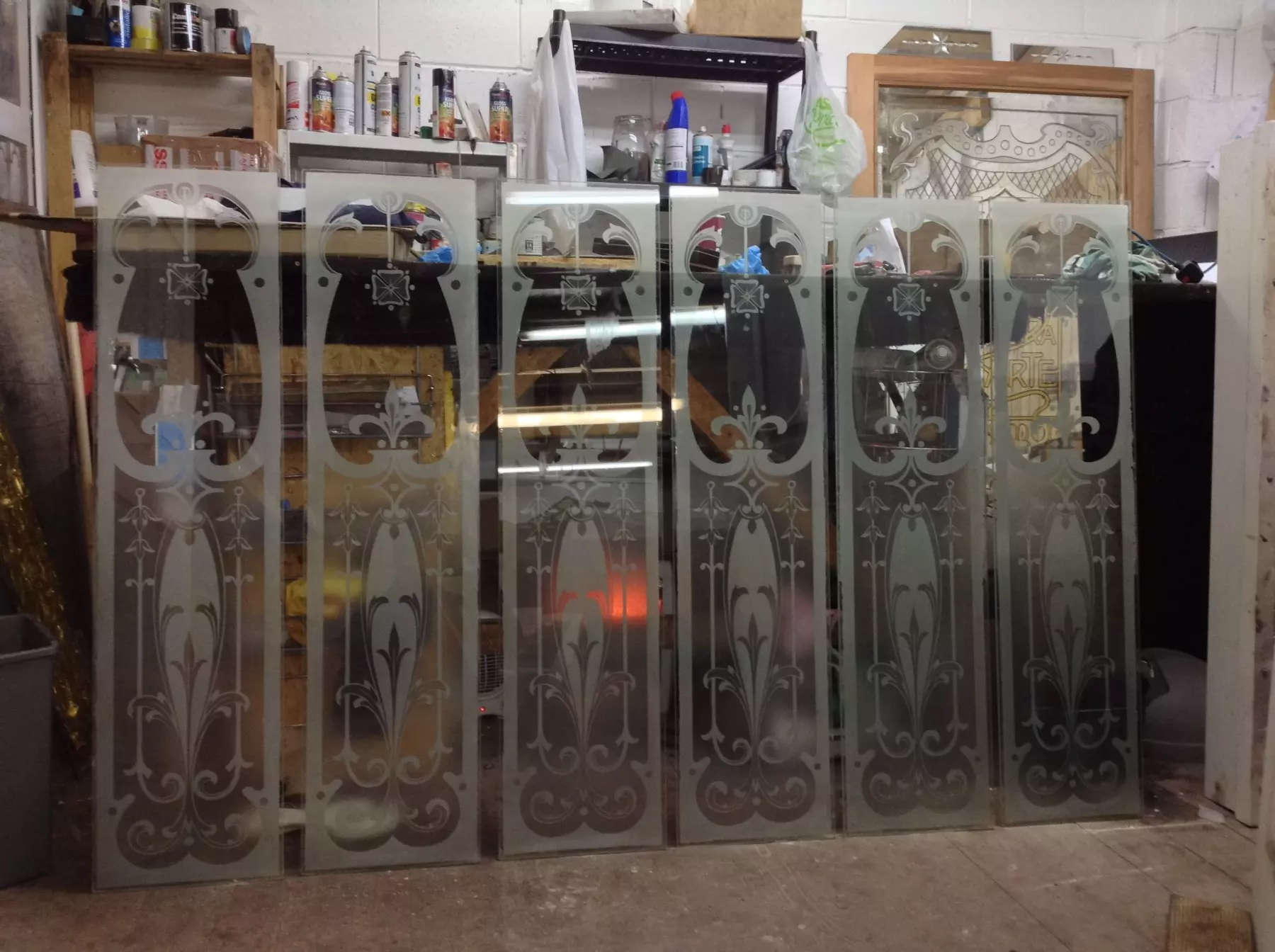 Using a wooden stick, stir the mixture quickly, and place the trough in a warm place or on the hob. Vapour will soon start to rise.

Now remove the trough and cover it, wax side down with the graved and waxed plate. Very quickly, the acid will have etched into the bare portions of the glass plate. When the glass plate is sufficiently etched, melt the wax to remove it.
For clear etching, prepare the liquid acid by placing two parts of fluorspar and three parts of sulphuric acid in a heavy vessel. The tube of which should dip into a leaden bottle half-filled with water.
Applications of Acid-etched Glass
Acid etched glass is ideal for both exterior and interior applications. Acid-etched glass is widely used in construction and architecture, such as commercial buildings, hotels, restaurants, pubs and houses. Acid-etched glass is found in many different guises in residential properties like components of your furniture and for decoration.
See below for some examples:

Interior Partitions: Etched glass partitions are a great way to divide space while giving an element of privacy.
Railings: Etched glass balustrades and railings give privacy, light and elegance to stairways and landings
Shelves: Acid etched glass shelves provide a beautiful platform for elegant ornaments
Shower and Bath Enclosures: Etched glass shower and bath enclosures give added privacy and light to a bathroom and look much nicer than an old fashioned shower curtain.
Doors and Windows: Etched glass provides a unique decorative design to a plain glass window or door panel while giving added privacy.
Glass Walls: Etched glass walls can offer a large room partition without losing light.
Kitchens: Many kitchens benefit from etched glass, for example, on display cupboards.
Interior and Exterior Doors: Etched glass is popular for interior and exterior doors, giving added privacy without losing vital light.
---
Are you interested in acid etched glass? If you require Acid Etched Glass, contact our experet today. We offer professional glass decoration throughout the UK.