Brilliant Cut Glass
Brilliant Cut Glass is developed by diamond cutting attractively detailed designs on glass. Brilliant cutting will give to your house a look of quality and style, completely etched into the glass.
At R.S. Glass Design Limited, the decorative glass service makes use of standard approaches, including brilliant cut glass and acid etching. We also offer gold leaf and sandblasting.
These methods produce hand-made decorative glass panels, doors, and mirrors. These are created for personal clients and profession throughout the U.K.
We offer bespoke decorative glass panels, mirrors, window designs and other finished products. These are drawn and cut out by hand. Our craftsmen use traditional, brilliant cut glass and acid etching techniques. At no point is a computer system or any other alternative contemporary products used. We take pride in the production of these, or any other jobs were undertaken.
We offer a broad variety of brilliant-cut glass styles. Ask to take a look at our full variety. We can show you our unique brilliant-cut glass designs.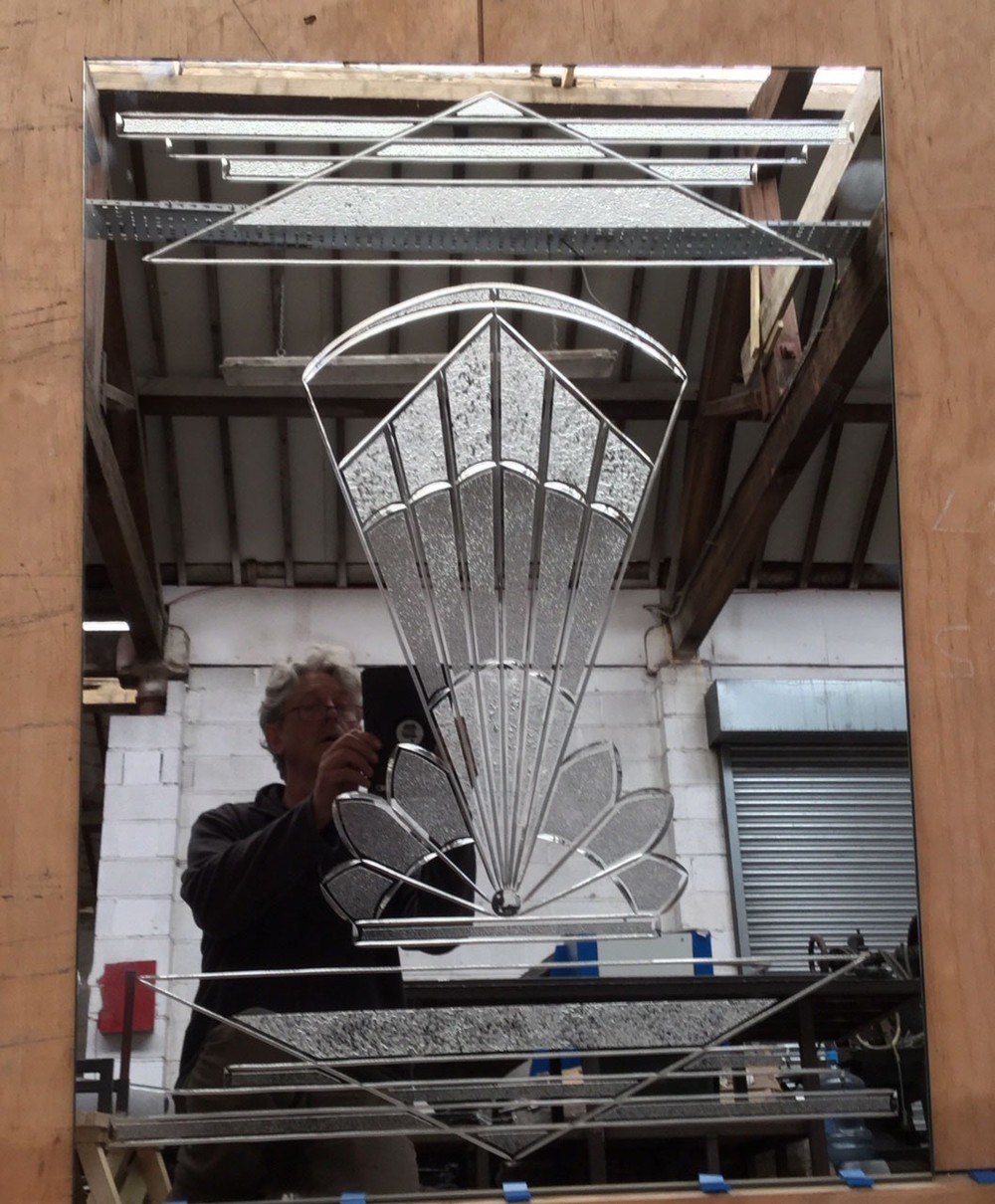 See examples of Brilliant Cut Glass
This extensive labour work rewards every one of the efforts it takes to create. The completed result reflects light like no other glass finish.
For example, Victorian cut-glass panels can be reproduced to exactly match initial Heritage pieces. We do this by utilising the original Victorian methods. When positioned with embossing, silvering and gilding the most amazing effects can be seen.
What is Brilliant Glass Cutting?
Brilliant cut glass is the method of cutting a V-groove into the glass. It is then polished to the very same degree of lustre as the rest of the glass surface.
We use this technique when cutting sophisticated designs. This offers unbelievably appealing and unique glass panels. When integrated with bevelling and fused glass, the results can be absolutely sensational.
Brilliant cut glass styles are the perfect means to embellish anything made from glass. We work with objects from mirror closets and framed mirrors to partitions and doors. We could develop your very own individual design. We can create a bespoke layout using numerous layouts from lines, circles or scrolls.

Our designers could develop a bespoke style just for you. You could also choose from a comprehensive option of supply patterns. We have numerous designs from elaborate to modern minimal.
Brilliant Cut Mirrors
Are you looking for some unique and stunning brilliant cut mirrors?
Then you've come to the right place. We have a wide range of excellent designs for you to choose from.
Our brilliant cut mirror adds style and expense to your property, but at a very affordable price. If you would like to find out more, get a free quote, or see some more designs, then please don't hesitate to give us a call today.
Victorian Brilliant Cut Glass
Victorian brilliant cut glass can look absolutely beautiful, and extravagant. We have some stunning designs here at R.S. Glass Design Limited.
The process must be extremely accurate and precise, but the end result is just breath-taking. Add one of our Victorian brilliant cut glass to your windows today.
Traditional Designs
Here at R.S. Glass Design Limited, we have a wide variety of traditional designs for you to choose from. These can be used for mirrors, windows, or even just for show.
If you would like to see some of our designs or get a free quote for our traditional ones, then please don't hesitate to get in contact with us by giving us a call or sending us an email.

Hand Decorated Windows
We make hand-decorated windows and have years of experience in the industry, so our designs are perfect. We use expert technology and equipment to make high-quality hand-decorated windows.
We have to be accurate and precise to make our intercut designs for our customers. We want each design to be beautiful and look magical so that you can be proud of your window in your property.