FAQ
Posted by:
Admin
Tags:
Etching, Acid Etching, glass restoration
Posted date:
15-07-2019
Questions About Glass Acid Etching
---
We answer some frequently asked questions about glass acid etching.
Q: How long does acid etching take?
A: Depending on the complexity of the piece, a single piece of acid-etched glass can take up to 2 weeks to complete, as R.S. Glass Design Limited uses traditional techniques to create each piece by hand.
As a result, each piece is a unique piece of art in its right, even if it's commission as part of a project. The actual processing time also depends on the current schedule of our workshop; for an accurate timescale, please contact 01204 596 055 to speak with a member of our team.
Q: Can you also acid etch mirrors?
A: As the surface of a mirror is glass, we can certainly acid etch mirrors to create an interesting art piece! An acid etched mirror is a fantastic gift idea if you are looking for something bespoke and the handmade, rather than something from the high street.
Our bespoke mirrors can be made to your specifications; please get in touch for more details.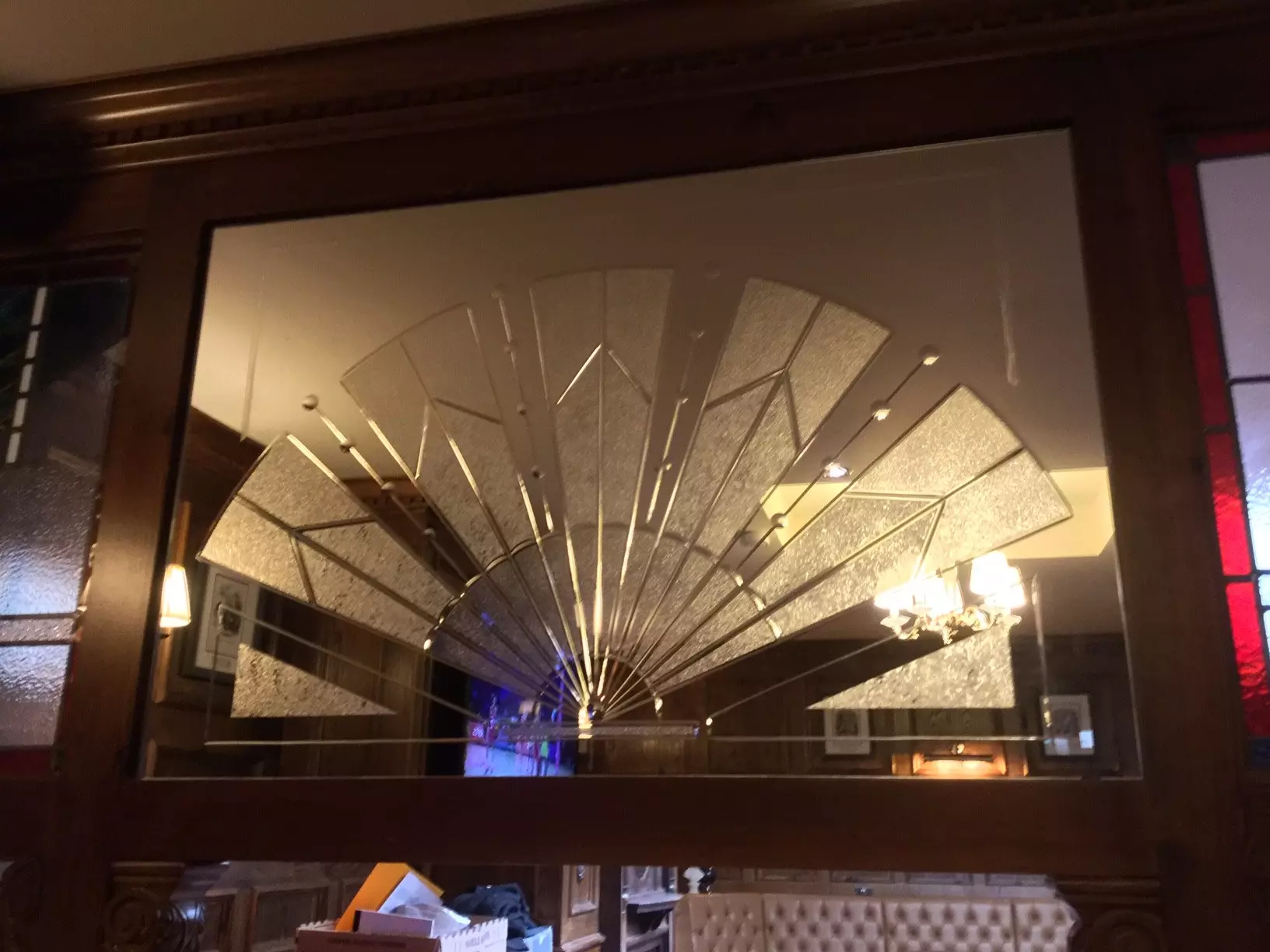 Q: Do you do bespoke commission pieces?
A: R.S. Glass Design Limited specialises in creating bespoke panes of decorative glass for a range of clients, including residential and commercial clients. Each piece is designed by our experienced artists with consideration to the style of its surroundings and the specifications set by you.
Q: What are the size limits on your products?
A: From front door panels to large stained glass church windows, R.S. Glass Design Limited's workshop is capable of handling a huge variety of projects, including a 30ft tall stained glass repair and restoration project for Archdioceses of Liverpool.
Q: Will acid etched glass fade?
A: Acid etching causes permanent, irreversible erosion of the glass surface so you won't have to worry about the designs losing its sharpness. However, to prevent wear and tear, acid etching is generally done on the side which is used less often; such as the back side of a door panel. For frosted shower enclosures, the etching is generally carried out on the exterior of cubicle to prevent build-up of water and soap residue.
Q: Do you carry out glass restoration?
A: As decorative glass specialists, our workshop is fully-equipped to create, repair and restore stained, etched and cut glass. This includes replacing any missing panels and if required, recreate an exact replica.
Though we may able to carry small repairs with the glass in-situ, in most cases we would prefer to transport the glass to our workshop for practical reasons. If you'd like to arrange your free, no-obligation survey, please simply contact R.S. Glass Design Limited.
Q: Do you also carry out the installation?
A: In most cases, the glass is delivered by a specialist courier to your location; however, R.S. Glass Design Limited can provide a one-stop solution by installing the finished pieces in your property.
Our in-house installation team can travel up and down the country to offer a tailored, professional service. We have experience in working with a range of properties, including older period homes and commercial buildings such as pubs, restaurants and offices.
Q: Can you combine different techniques of glass-decorating?
A: Of course! We often use several types of decorating techniques to create a single piece, ranging from acid etching, brilliant cutting and gilding to create contrast and depth. Brilliant cut lines are a fantastic contrast against the gentle frosted panels, whilst gold-gilding is often recommended for signs as it can be read easily.
R.S. Glass Design Limited can additionally work with a huge variety of art styles, from traditional, authentic Victorian pub signs to Art Nouveau stained glass windows to suit the design of your existing property.
Q: Can acid etched glass be made into double-glazed units?
A: Of course! Unless specifically requested, R.S. Glass Design Limited will provide the finished glass panel which can be sealed into any glazing unit, whether they are for exterior or interior windows.