Modern Window Glass Design Ideas For The Home
Posted by:
Admin
Tags:
Posted date:
20-03-2023
Are you looking for Modern Glass design ideas for the home? R.S. Glass Design Limited are the UK's premium producer of hand crafted decorative glass. We look at ideas for glass design in wooden windows, kitchens, Sliding glass, mirrored glass and frosted glass windows.
Modern Window Glass Design
Over the years, glass designs have gradually developed and evolved across the UK market. Now we find ourselves flooded with choices and various interesting and unique ways to add beauty, safety, natural light and privacy to our homes and properties.
You may need clarification on which materials, shades, colours and textures are suitable for what you want to achieve and what best matches your interior and exterior decor and furniture. Alongside buying guides from Future PLC, let's explore some of the most popular options in the latest trends and what they are most used for.

Glass Design With Wooden Window
When it comes to the wooden window and clear glass, it is quite a unique experiment that allows you to play around with the appearance and space of the room or exterior. They are designed to fit with materials that delicately complement one another; you have to ensure you get the best combination or style to suit your ideal home or property building's living rooms or dining rooms.
You'll find that there is a broad range of window design options; for example, you can have them in various wood types and colours, and the wood can even be carved to offer a more regal appearance to the household, especially period properties.
Glass Designs For Kitchens
Modern kitchen windows can be efficiently designed to suit your exact needs and services. Professional manufacturers in the UK, like Cirttall Windows, will ensure that proper, durable internal windows are installed without compromising the privacy of your family or the chefs and staff inside.
Your home or food service establishment can achieve maximum sunlight with the help of plain glass, complete with an etched or traditional stained border with or without coloured glass.
However, suppose you want to incorporate glass designs for your kitchen cabinets and cupboards.
In that case, you must carefully consider the room's colour scheme and any maintenance the material may require.
The best option would be to pick fire-resistant and tempered glass, as working in a kitchen structure filled with hot appliances, cutlery, dishes and food; you want to reduce the potential of fires and accidents as much as possible.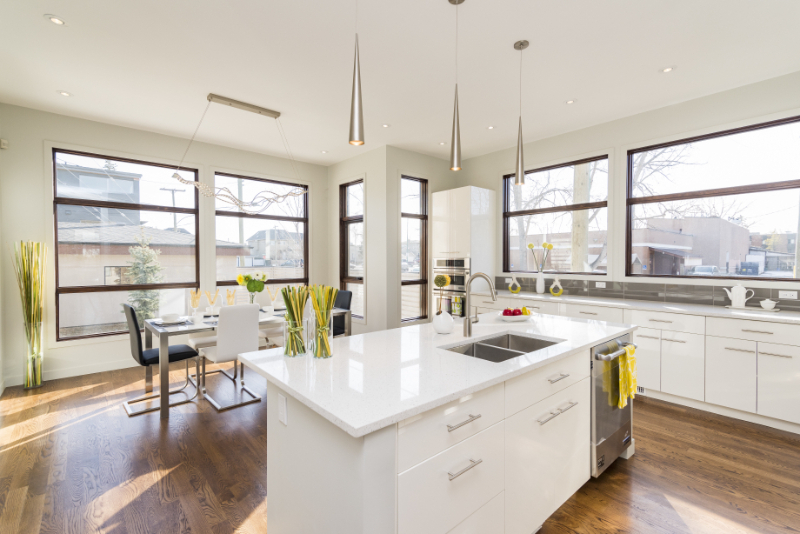 Sliding Glass Designs
Sliding glasses are a classy option for homeowners; however, you should always look at your and your family's safety before deciding on the features or materials. These designs are typically found on sliding glass doors on lower tiers and not so much for bedrooms or roofs.
Those looking for more privacy should look into purchasing reflective glass, and those that require less light filtered into a perhaps already bright home and floors should look at tinted glass options.
Privacy windows and doors are essential for ensuring you and your family are incredibly comfortable in your open-plan spaces. When it comes to sliding windows, there are multiple fantastic options and designs, including three panels of aluminium.
Sliding doors are some of the most contemporary looking on the market, so if you're in search of that clean and sleek aesthetic, this is the best choice. Sliding windows are an excellent choice for those seeking immense strength and durability yet who want to avoid something bulky and unattractive.
They are incredibly low maintenance and offer plenty more glass space than the frame, so they make sense for bustling businesses. Professionals can install safety grills onto your windows if you need extra protection, perhaps for commercial properties like stores and shop fronts, restaurants, storage rooms, etc.

Mirrored Glass Designs
Such interior designs are incredibly popular with home and property owners across the UK, and from one side of the glass, it displays your reflection in an intricate illusion. Various applications and components of mirrored window glass are available on the market.
Mirrored glass designs look beautiful when installed at front gate entrances; they are attractive for luring in your visitors and enhancing the expectations of the interior of your home or building. For a more classy touch, we recommend selecting mirrored windows coupled with wooden doors, giving your home a truly beautiful look.
If you have a modern residential building or property with wall-to-wall windows, installing them with mirrored glass is the most effective. It is a glass window design that offers much more luxury, so if you're searching for something more minimalistic, it's best to choose a material design like stained glass walls, front doors and windows.

Frosted Glass Window Design
Etched or frosted glasses are some of the most beautiful window designs to include in your property, especially in staircase areas, as they help avoid injuries by providing efficient sunlight during the daytime. Ensure the windows you have installed are evenly tinted, as this will offer so many benefits; it will reduce heavy sunlight but still allow light in and increase your privacy levels.
You may want to incorporate stained glass windows for the front of your building, as this can offer plenty of curb appeal and is ideal for attracting future buyers when you wish to sell. It is also a common material design used in church windows for displaying religious imagery or icons. These are a valid option if you intend for your windows to include a more picturesque scene.
When you install frosted glass, it typically comes complete with a smoky pattern or design that allows it to appear translucent; in discussions with your glassmaker or installation professionals, you can decide on how transparent or see-through you want it. Frosted windows are commonly found in cabins, conference rooms and bathroom windows as they are most effective for providing privacy.

Bespoke Etched Glass Designs For The Home
Suppose you want to add stunning etched glass partitions or panels all around your property to provide separate spaces.
In that case, we highly recommend researching local glassmakers that can create high-quality designs that are brand-new and unique to your family home.
Professionals in the field also have the skills and craftsmanship to re-create glass designs and sources for your exact household or property that give you plenty of light and privacy.
After scouring through magazines of leading digital publishers, such as Elle Decoration and Gregory Phillips Architects, you'll find yourself with all the ideas and inspiration you require to contact the experts.
There are many professionals out there that you can find in your local or surrounding areas that specialise in the art of designing and creating the perfect etched glass panels that are bespoke and can be used for all manner of exterior and interior double doors, glass tables and frames.
Professional glassmakers can successfully and skillfully repair and restore any of your existing glass panels if they are damaged unless they are simply irreparable. It is paramount that all etched glass made, sold and installed into domestic and commercial properties across the UK meet British standards and building regulations, providing optional encapsulation, which includes triple glazing.
Encapsulation is an essential part of any window instalment, especially for homes in the UK that experience such everchanging, more-so cold weather. It helps prevent some heat loss throughout your property and filters and reduces the amount of noise on either side of the wall. Many designers may also include bespoke additions to your designs if you desire them, such as engravements of your name or property number.
---
Are you interested in acid etched glass? If you require Victorian style etched glass specialist or a modern acid etched glass design, contact our expert today. We offer professional glass decoration throughout the UK.